September 8, 2023 
The Berkshire Eagle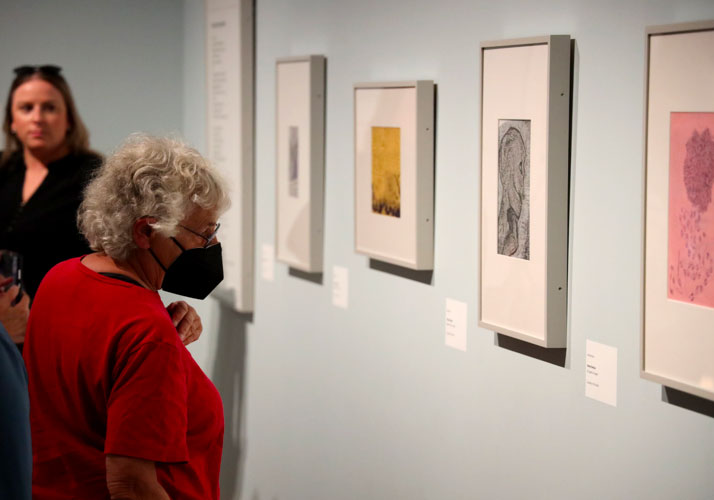 A visitor to the Berkshire Museum takes a closer look at the work of artists featured in "Insight Out," such as Dan Lowenstein, who took a "wonderful" art class with Phyllis Kornfeld while incarcerated. (Photo provided by Cody Baffuto)
PITTSFIELD, Mass. — Dan Lowenstein tries not to live in the past.
In his 10 years since leaving Berkshire County Jail and House of Correction, he's started a successful small business, maintained a community and built a steady life. So why dwell on a tougher time?
He was surprised a few months ago when he found himself wanting to create a painting about his time behind the wall. He had the idea upon seeing the application for "Insight Out," an art exhibition showcasing work from currently or formerly incarcerated people at the Berkshire Museum through Oct. 1. And with his painting on display in the exhibit, the lifelong artist is finally displaying his work in a museum.
Lowenstein, 32, has been creating art for as long as he can remember.
When he was little, he took classes at IS183 Art School, now known as Berkshire Art Center, and looked up to his aunt, a full-time artist who largely works in painting and stone sculpture. Lowenstein has created clay and stone sculptures himself, in addition to doing blacksmithing, metalwork, drawings, paintings — you name it.
Thinking about why he likes moving between different mediums, he said, "Painting is a very calm, quiet, sitting-down activity, whereas for metal sculpture, you're pounding away with a sledgehammer."
In June, when his mother sent him an advertisement she'd seen seeking applications for "Insight Out," he was excited.
The ad said that artists selected would display their work in the museum, were given a $200 stipend and could potentially sell their work afterwards.
The exhibit arose from Berkshire Museum's collaboration with 2nd Street Second Chances, a non-profit founded last July with a dual mission: easing the transition for formerly incarcerated people navigating reentry to the Berkshire County community, and bringing awareness to those citizens' depth.
"We have a lot of great artists at the House of Corrections, and this gives them the opportunity to catalyze their skills," said Jason Cuyler, executive director of 2nd Street Second Chances.
When people are incarcerated, they have structured support systems for challenges ranging from mental health to substance abuse, he said. "But when they return to the community, they lose a lot of those services."
So the organization's members meet with people prior to their being discharged, finding out goals for reentry and connecting them with relevant resources, which can range from Berkshire Community College to, say, the Berkshire Museum, which is a founding partner of 2nd Street Second Chances.
"Once you get sheltered and your immediate needs are met," Cuyler said, "what's next?"
Seeking artists for "Insight Out," the Berkshire Museum and 2nd Street Second Chances broadcast far and wide, posting on their website and social media channels, as well as advertising in newspapers and in prisons.
Cuyler often refers to "smashing the stigma" that formerly incarcerated people face rejoining society, and sees exhibits like this one as a key part of that work.
"It's not a typical art show," said Jesse Kowalski, the Berkshire Museum's chief curator. Of the 11 artworks exhibited, "they're all different media, including abstract paintings, portrait, design, even a poem."
For a work called "Happy Place," Kowalski said, artist "Skye Siok used an antibiotic ointment to pull ink off a newspaper onto a sock and then transferred it to a matte board."
Lowenstein's work, "Oversight," is an ink painting created specifically for the exhibit.
He wanted to make something that reflected his experience in the justice system, settling on a title reflecting his ambivalence about being surveilled.
Lowenstein ended up creating an abstracted image of a dome-shaped security camera — the kind that, while in prison, he saw "in the living and housing and workout areas, on the exteriors of structure," he said. "All over the place."
While incarcerated, Lowenstein found it creepy constantly being watched.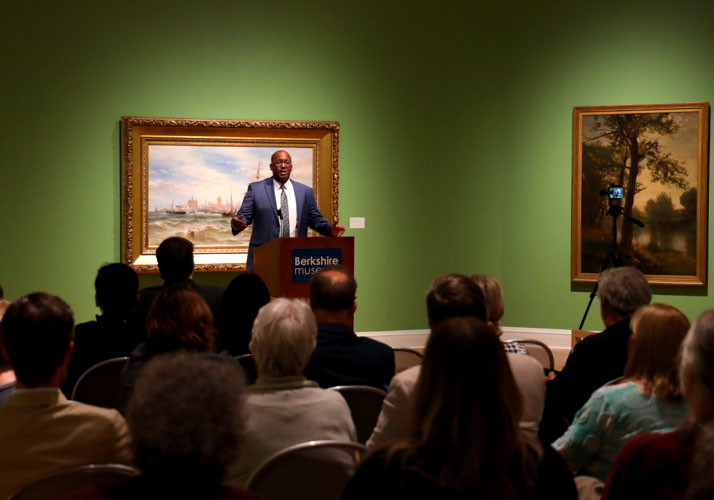 "Artists have developed a lot of skills in classes, but also on their own," said Jason Cuyler, center, executive director of 2nd Street Second Chances. (Photo provided by Cody Baffuto)
"It made my skin crawl," he said, "but prisons without security cameras lack oversight. They're the environments where people are assaulted and stabbed and even killed."
He paused before adding, "So there's an inherent paradox there."
Lowenstein himself served time for cannabis distribution and gun charges.
"I really regret mistakes I made then," he said. He struggled with alcohol and drug use at the time, adding, "I didn't have any violent intentions with the firearm, but of course I really should have gotten one legally," if at all.
The word "oversight," he says, is a contranym: a word with two meanings that are nearly opposite. "It refers to failing to see something," he says, "but also to every move being watched."
And in his painting, he seeks to capture that incongruity.
A week after submitting an image of "Oversight," taken by a friend with a good camera, he got an email saying a selection committee of museum members had chosen it for exhibition.
Lowenstein had been to the Berkshire Museum a few months before as a patron; now, his own art would be displayed there.
"It's my first time having a piece in a museum exhibit," he said. "I'm very excited. A little bit nervous, too, of course."
And he's equally pumped to see the work from other artists.
As a curator, Kowalski said he "always struggles with bringing in people who don't feel comfortable in museums, or haven't been raised in museums." So he's hoping this exhibit might expand the web of who comes to the Berkshire Museum.
As Cuyler brings artists into the Berkshire Museum, he is thinking about what it means to encourage individuals leaving incarceration to "not only take life day to day, but think about further down the road," he said. "What are you going to do ten years from now?"
Lowenstein, exactly a decade out, runs the dispensary Berkshire Glass and Grow with his brother; they opened a second location 18 months ago.
He also does gardening and landscaping on the side; he really enjoys working with plants and "it's nice bringing order to a natural space," he said.
As for his career as an artist, "I hope to continue to grow and develop. To improve my skills, learn new styles, try new mediums," he said.
And while one painting in a specialized exhibit may not be a direct route to long-term visibility, "more than anything else, I'd like time and financial stability to focus on my art."
IF YOU GO
What: "Insight Out," an exhibition of visual art created by presently and formerly incarcerated individuals in Berkshire County
Who: 2nd Street Second Chances in partnership with the Berkshire Museum
Where: Berkshire Museum, 39 South St., Pittsfield
On view: Through Oct. 1
Hours: 10 a.m. to 5 p.m., Monday through Saturday; Noon to 5 p.m. Sunday
Admission: $15, general; $12, college student; $8, youth ages 4-17; free, children ages 3 and under.
Information: 413-443-7171; berkshiremuseum.org