Release
(formerly Hear Me Out)
Due to members of the creative team testing positive for COVID, the performance dates have been moved to:
         Monday, September 25 at 7 pm
         Tuesday, September 26, at 2 pm and 7 pm
What's it about?
Through a process of inspiring trust and creative risk-taking, telling stories, and sharing dreams and aspirations, the participants will find narrative threads, identify themes, and build the world of the play they have generated.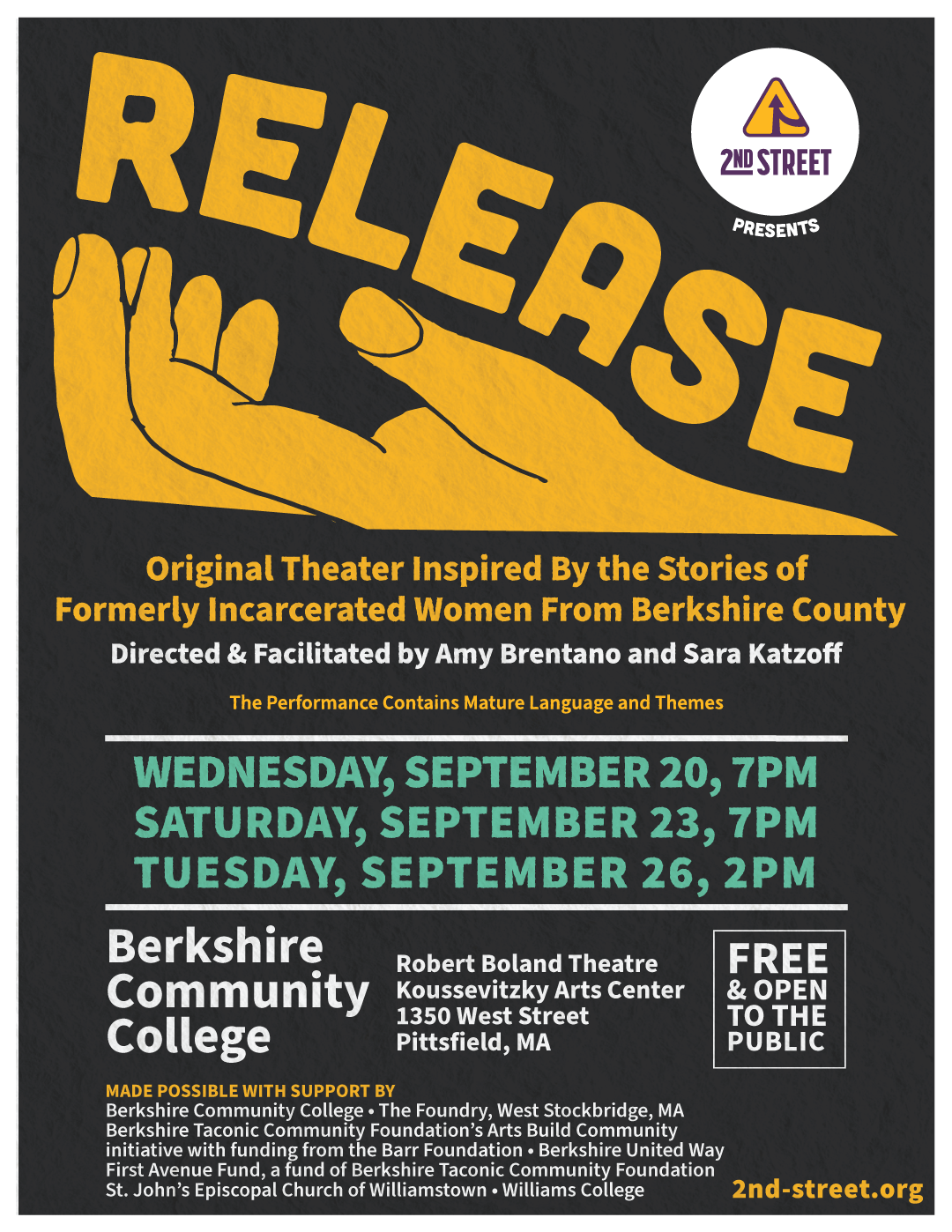 The goals of Release are:
Using the power of live performance, to provide an outlet for presently and formerly incarcerated individuals to share their stories and life experiences through devising and shaping an entirely original piece of theater.
To educate the public on the issues of incarceration and re-entry in a highly personal way and challenge our stereotyping of this population.
Performances will take place at the Robert Boland Theatre at Berkshire Community College on September 20 and 23, 2023, at 7 pm and September 26, 2023, at 2 pm and and will be free and open to the public.  Each show will be followed by a talk-back, where audience members can ask the cast questions directly, facilitating community dialogue. 
 Co-director/facilitators Amy Brentano and Sara Katzoff are an intergenerational collaborative team of devised theater makers who have created together for over a decade. As directors, educators and playwrights they have worked with professional actors, elders, teenagers, and immigrant communities in the Berkshires and beyond. They share a background in physical theater and a common belief that live performance can serve as a catalyst toward widening perspectives and healing divides. Recent collaborations include: WAM Theater, Bard College at Simon's Rock, Multicultural Bridge, The Millbrook School, Barrington Stage, 10X10 Festival, Kickwheel Ensemble Theater, Bazaar Productions, Inc. and artists residencies at The Foundry, a multidisciplinary arts venue in West Stockbridge, MA.
Performance space is provided at no cost by Berkshire Community College. Rehearsal space is provided as an in-kind contribution by The Foundry, West Stockbridge, MA.
Release is a companion initiative to Insight Out that will result in an exhibition of visual art at Berkshire Museum starting on September 2, 2023.
With Gratitude
2nd Street acknowledges with gratitude the financial and in-kind support of this project provided by:
Berkshire Community College
The Foundry, West Stockbridge, MA

Berkshire Taconic Community Foundation's Arts Build Community initiative with funding from the Barr Foundation

Berkshire United Way

First Avenue Fund, a component fund of Berkshire Taconic Community Foundation
St. John's Episcopal Church of Williamstown
Williams College